We are fundraising to send a farm tractor to our missionaries in the Dominican Republic to help further their ministry.
For more info on what they do and the work that God has given them to accomplish, check out their website.
To raise the money that we need to send a tractor to M2535,
we have decided to raffle off this John Deere 318.
We have gone through this tractor, fully serviced it, and had it painted.
This is a good running tractor, and all proceeds go to the Dominican Republic.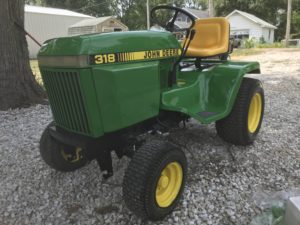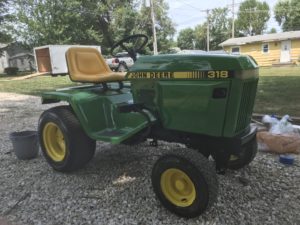 Raffle tickets are $10 each or
3 for $25
The timeframe to get tickets by mail has passed.
See below how to get them in person.
Tractor will be in front of Wildest Dreams at 470 E. Main St. in Bushnell on
Wednesday from 10am-7pm and tickets will be available in the store there.
Tickets will be available in front of the Community Christian Center from about
6:30-7pm on Thursday following the Fall Festival Parade.
We will be set up by Bushnell Banking Center at the south end of Bushnell on
Friday the 23rd from around 11am-1pm.
We will also have a table set up at the tractor show (address below) on the
24th from 8am until the drawing.
If none of these times work for you, please call Nathaniel
and he will try to meet up with you.
Drawing Time and Location:
2PM on August 24th
Bushnell Fall Festival Tractor Show
445 N. Dean St.
Bushnell, IL 61422
For questions, call or email Nathaniel:
309-335-6680